How Can Using a 3PL for Packaging Services Save You Money?
Download our Co-Packing Cost Savings Checklist to Find Out.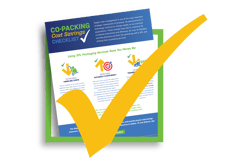 Supply chain management is one of the most important strategic components of business. How do Retailers and Manufacturers find ways to save money?
By partnering with a 3PL.
This helpful checklist highlights the ways Retailers and Manufacturers can minimize their products' touch points while also optimizing supply chain operations.
With this Checklist, you will find three proven cost savings measures that will also lead to increased productivity and efficiency.